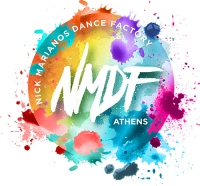 #NMDF – NICK MARIANOS DANCE FACTORY
#NMDF is a lot more than just a dance school. Since its first day of operation, it has become the center of teaching the most popular dance genres and has succeeded to establish itself as one of the leading schools within a very short time, both in the field of modern dance as well as in a wide range of dance styles, from hip hop and commercial to ballet, latin and dance workouts.
The hospitable and unique space of #NMDF in Glyfada is a model for greek dance schools, combining modern aesthetics with functionality and comfort. Within this unique environment, created and imprinted by his distinctive personality, Nikos Mariαnos welcomes his students, along with the group of teachers who surround him. The aim is to teach the craft of choreography and the principles of dance in the most fulfilled way, while offering innovative and energy-filled programs that transform #NMDF into a favorite habit and lifestyle.
It is no exaggeration to say that #Nick Marianos Dance Factory is an ever – evolving organism, busting with energy, passion and artistic creation. Each year, some of the best dance teachers throughout the world participate in a series of exceptionallly inspired and constantly upgraded unique events, elevating the faculty's level to the highest international standards.
never miss a chance to dance